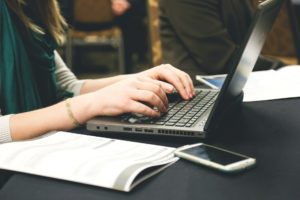 There's no doubt the work landscape has changed with the rise of the internet. Unprecedented connectivity has allowed us to break free of the 9 to 5 work schedule and commuting to an office space. It has also yielded a growing workforce of "alternative workers."
Alternative work is characterized as unsteady or temporary— such as work as an independent contractor or through a temporary help agency (Quartz, 2016). Businesses everywhere are hiring more freelancers as opposed to full-time workers. Why?
Saves You Money
When you're only in need of help for specific projects, why hire somebody to work 8 hours a day, 5 days a week? A full-time employee with salary and benefits can be expensive. Whether a freelancer charges you by the hour or a flat monthly retainer fee, a freelancer is far less of a cost than a full-timer.
You can actually save 20-30% a year by hiring freelancers. Yes, even with the higher hourly and flat rates of freelancers they are less expensive to hire!
More Flexibility
Freelancers don't need to adhere to a 9 to 5 work schedule, so they have more flexible work hours. That means you have someone to take care of work beyond your business hours such as engaging on social media, responding to emails and messages, and making website changes and tweaks.
Expertise
When you hire a freelancer, you're hiring someone who specializes in a field or fields and has spent time honing their craft. You don't need to invest your time and resources into training this worker like you would with a new full-time employee— or teaching yourself the skills you need to do it yourself.
Here are some great jobs to outsource to freelancers:
Writing, blogging, website content creation, marketing content creation, or editorial management
Web design
Graphic design
Social media management
Marketing strategy
Virtual assistance
Coding/web development
PR/influencer outreach
Photography
Video production
Fresh Ideas & Quality Work
Sometimes it's helpful to just get a pair of third-party expert eyes on your projects who are willing to bring their fresh perspective to the table. Freelancers who have been working independently for awhile tend to have a variety of experience and can therefore offer something unique to your business.
Plus, because freelancers make a living off of repeat work, you can be assured that a good freelancer will communicate well, have good customer service, and strive to give you their best work. Freelancers have to continuously prove their worth in order to maintain their job because they're not permanently on your payroll. Don't you want an employee that's held more accountable to the quality of the work they promise to deliver?
Less Risk
Because freelancers are not technically employees, they don't have the same rights and legal obligations that salaried employees do. If you find that a particular freelancer just isn't a good fit, they are easy to replace. There are no shortage of freelancers out there and you can shop around to find one that you can form a strong working relationship with.
Conclusion
If you need some extra help with some projects in your business, you should strongly consider hiring a freelancer. It's a low-risk, low-commitment option to get a job done by a specialist with experience.
If you're in need of a freelancer referral, get in contact with Laura for a solid recommendation.