By now you know that social media for your business is a must but, if you have any experience with it at all, you're probably aware of how time consuming it can be. Managing your social sites can be even more cumbersome than managing your website.
Luckily, there's no shortage of tools out there to help you manage your social strategy. Here are nine to get you started:
What It Does: Evernote is both a web extension available on most browsers and an app. It allows you to clip webpages and images, find text in images, and keep all your notes organized. It also has a messaging feature so that you can discuss and share your notes with others.
The plus and premium versions offer features like saving important emails and annotating pdf files. You can essentially build your own web database with this software and compile a rich resource of content to use on social media.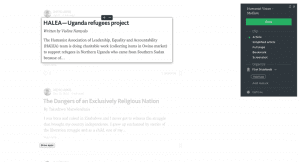 Who Else is Using It: 200 million users
What It Does: It's a content marketer's dream. Feedly aggregates content from web browsers and mobile devices and compiles it into useful news feeds for the user to customize and share. You can monitor news by getting keyword alerts from Google, and it even connects with various softwares like Evernote, Slack, and Trello to optimize business usage.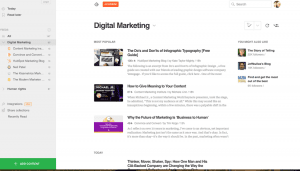 Who Else is Using It: MIT, Zendesk, Foundry Group, and 12 million other users
What It Does: This is a social media management software that you definitely need to know about. MeetEdgar uses and reuses your best content to optimize post views. Edgar offers a categorized library with types of content. You can then schedule the type of content to post at the right time on the right social channel and Edgar will take over from there, week after week. Then Edgar stores the content for later use so he can share it after he runs out of material thereby optimizing post views.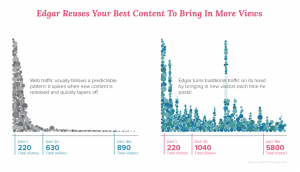 Who Else is Using It: Neil Patel, DigitalMarketer, CopyHackers, Canva, ProBlogger, Foundr, and thousands of other users
What It Does: Like MeetEdgar, Sprout Social is a social media management software with features including a unified Smart Inbox, social CRM tools, advanced scheduling tools, social media monitoring, sophisticated analytics, and team collaboration tools.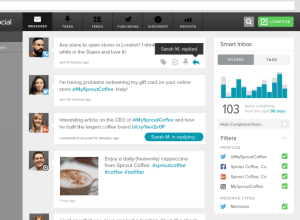 Who Else is Using It: UPS, Ticketmaster, Stanford University, Bentley, Hyatt, Evernote, Grubhub, and 17,000 other users
What It Does: WeTransfer is a web-based file sharing service. It's a really simple platform that only requires your recipient's email address(es), your email address, and the files you are sending. You can send files as big as 2GB for free.
This is a great tool for quickly sharing files to schedule for social posts.

Who Else is Using It: Enough users to send 10 billion transfers in 2016
What it Does: This is the go-to tool for scheduling Instagram posts. What stinks about scheduling Instagram posts is that because Instagram doesn't share their API, auto-posting is not an option. With Iconosquare, however, you can schedule posts and get notifications when it's time to post. Plus, the analytics are some of the best and most in-depth out there for the platform.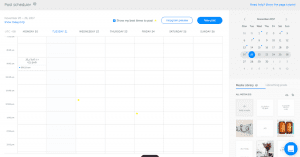 Who Else is Using It: FourSquare, KemperSports, Krupp Group Public Relations
What It Does: CoSchedule is a social media management tool, but it's also a very powerful collaborative calendar. You can organize all of your social media posts, content, events, and tasks in one place. Plus, the ReQueue feature finds optimal posting times and fills in the gaps in your social calendar with your best performing posts.
Who Else is Using It: Convince & Convert, Borshoff, Foundation Recovery Systems, Florida Realtors
What It Does: Buffer is a handy tool for scheduling and publishing posts across multiple social platforms. It also features analytics and allows for multiple users to collaborate at once.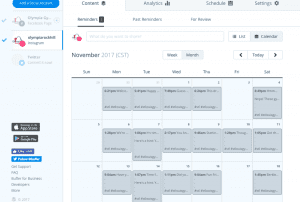 Who Else is Using It: Fortune Magazine, Business Insider, About.com, Seattle Times, the Denver Broncos
What It Does: If you want to make quick and easy graphics but you're not much of a graphic designer, this is the perfect tool for you. Canva is loaded with easy-to-use features and lets you create graphics with sizing for all the different social platforms.
Who Else is Using It: Over 10 million users
Conclusion
No matter what tools you decide to use to help manage your social media, make sure you take advantage of the many free tools out there. This is only the tip of the iceberg when it comes to helpful software!