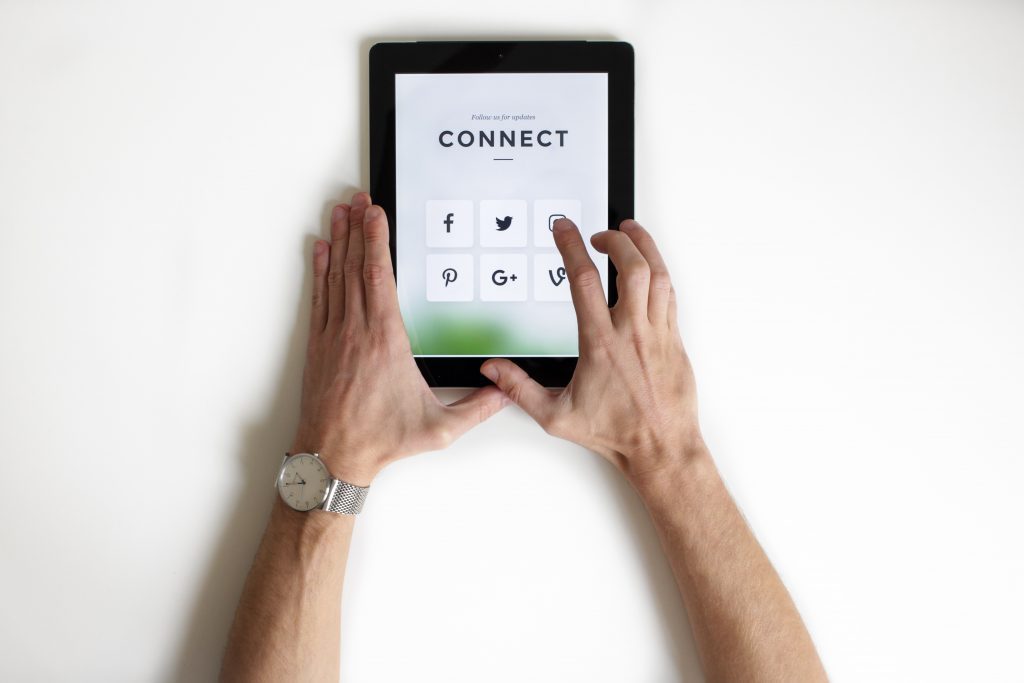 A lot of B2B (Business-to-Business) businesses struggle with social media. And B2Bs have really been lagging behind B2Cs (Business-to-Consumer) when it comes to adopting social media for effective marketing use. But guess what B2Bs? You have consumers too!
If your B2B business hasn't identified your consumers, and the people who make decisions to narrow your target, it's time to kick it into gear. Once you've determined who you're trying to reach, your social media strategy can be executed.
Let's go through six tips for achieving social media success for your B2B business.
1. Create Content Worth Reading and Distribute it Wisely
First of all, any business– B2B or not –should be creating content to be relevant. It's crucial to market your industry expertise and distinguish your brand's value.
According to the 2016 Demand Gen Report, 96% of B2B buyers want content with more input from industry thought leaders. So if you're not focusing on the creation of your content around thought leadership, you're missing a massive hole that nearly every B2B buyer is asking you to fill.
If anything, you should be focusing your efforts on educating other businesses about why they need your product or service and how to use the product or service. Educating B2B buyers about problems they didn't know they had can go a long way because these are problems, of course, that your product or service will fix.
Social media is a great way to get that content out there to other businesses. It's important to note, though, that not all content is created equal, and you have to be careful about what content you decide to post where.
For example, some blog posts are better designed for the LinkedIn community, but rich media– meaning photos, videos, and other interactive media –are more fitting for Facebook or Instagram. Always keep in consideration that each social network has a different culture and preferred content formats, so posting the same content across platforms is not a good strategy.
Instead, adapt your messaging to align with the social channel in order to optimize engagement.
2. Build Your Brand Awareness by Being Where Businesses Connect
While you're taking a moment to consider how to adapt your content for social, also consider who you're adapting it for. Businesses began using social in the first place to build brand awareness, but optimal brand awareness comes from considering who you to know your business.
B2Bs have buyer persona and want to get qualified leads to conversions, like B2Cs. And just like B2Cs, B2Bs need to consider where their buyers like to spend time online.
LinkedIn is the best and most obvious solution for B2Bs looking to build awareness and promote content. It's truly a professional's social network. Sharing articles and commenting on one another's work is a great way to start conversations with members of other companies and get them interested in your brand.
You might be thinking that LinkedIn is the only social platform that works for B2Bs, but it's not true! It may be the best for lead generation, but if your buyers have presence on other networks, you will want to consider adding those to your social strategy.
Twitter, for example, is a good place to strike up conversation for lead generation. And given that a presence on Google+ can do wonders for your SEO, it's great for any kind of content.
Salesforce also gets creative on Facebook, not focusing solely on selling their product but on making posts that their audience can relate to: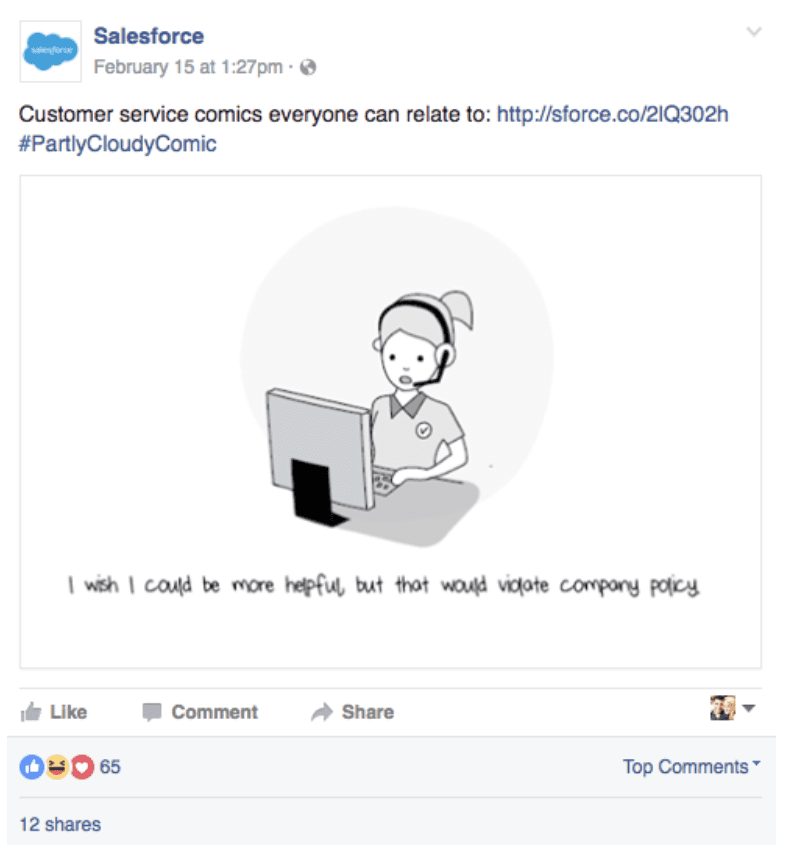 So while having a presence on LinkedIn is a necessity for B2Bs, also step out into the other networks where you have buyers and find ways to creatively connect with your audience.
3. Get Social and Build Relationships
Speaking of connecting with your audience, a major part of your social strategy should be being social. We're all about content marketing here, but nothing can replace the relationships you build through social media.
According to HubSpot, 14% of all lead generation for B2Bs is driven by social media, and the numbers are probably higher for those who place a high focus on LinkedIn.
Social media has given B2Bs a glorious opportunity to build trust and grow relationships with potential buyers. Speaking with leads, answering their questions, and demonstrating real value will build real connections with people and companies that will transform acquisitions on social media into conversions.
It's important to note that this relationship-building takes time and no amount of strategizing on social can push it forward any faster. You have to put the time and effort into actually be social on social media before you can reap the benefits of the business relationships you've built.
4. Advertise on Social Media
Social advertising provides an exceptional opportunity to stay in front of a qualified and relevant audience on their favorite networks.
According to a 2016 Regalix study, over two-thirds of B2B marketers worldwide devote dollars to social media advertising.
As a B2B, you definitely want to be getting your name out there via social ads. Even if you're still skeptical of the ROI on social media for B2Bs, you're losing traction that you don't advertise on social while you're competitors are getting the leg up.
5. Supplement your Social Following with a Healthy Dose of Email
As you build your following on social, it's a good idea to support engagement and activity with some good ole' fashioned email. Some marketers believe that email is dying out, but this isn't so.
In actuality, 79% of B2B marketers credit email as the most effective distribution channel for demand lead generation efforts. (Content Marketing Institute, 2018).
So B2B marketers should really be supplementing their social strategy with email. This can be accomplished a few different ways:
Incentivizing your email recipients to join your social channels by offering promotions only available on social
Sending monthly newsletters of your best blog content
Directing them to your social channels by promoting contests or giveaways
Your email recipients need to know what's in it for them for following you on social, so make sure you make that information clear in your email marketing.
6. Retarget on Social
Your followers may fit your buyer persona to a tee, but just may not be ready to buy yet. Retargeting your followers on social media can help convert them into paying customers— or at the very least get you at the top of mind.
By placing a retargeting code on your blog and landing pages directed from your social media, you can keep out in front of everyone who's interested in your content.
It also can be helpful to retarget in the form of social ads. Maybe a potential buyer of yours got close to the sale but didn't complete it. You can put specific ads out in front of this buyer to keep that purchase in his mind. Facebook is especially good at this.
Conclusion
Social media marketing is not just for B2Cs– it's time to leave that mindset behind. Social can and does work for B2Bs if done correctly and creatively. Be sure to wisely choose the social networks you use (always prioritize LinkedIn), focus on building trust and relationships through engagement, and turn out worthwhile content. Social ads and retargeting efforts are always a good idea, and supplementing your social with email marketing is an assured way to grow your following.
Need help with managing your social media? Contact CommCore Marketing to get started!